Sendung Sonntags, 10.00 – 11.00 Uhr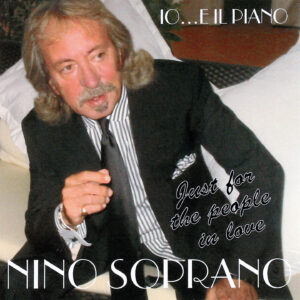 NINO SOPRANO was born in Naples. He started learning guitar at the age of eigth. After two years, on his father advise, he switched to the piano. Few years later he made up his first "Trio" with a doublebass and a drum; soon it became a Quartet with a guitar and then a Quintet with a sax. His first important gig was in a famous club in Naples called "Lloyd Club" where Nino was hired as a substitute of the Orchestra of Piero Giorgetti, who was a very famous singer during the 1950s. After that debut Nino was confirmed at that Club for the whole month of May 1960. From that moment Nino started his brilliant career playing in the major clubs in Italy: Astoria in Milan, Open Gate in Florence, Savioli in Riccione, Club 84 in Rome, Oliviero in Forte dei Marmi, Caprice in Viareggio, and others. In an article on the Gazzetta di Viareggio the music critic Aldo Valleroni published a picture of Nino's Orchestra and titled "Nino Soprano and the 93″ ; the number was a simple addition of the age of all five components of the orchestra, just a way to remark how young they were.
The first LP was released on Christmas of 1960: RICUORDATE and DIMME. Later many other success as SOLO PER UN'ESTATE, SCETATE, ANNAMARIA (this one sold over 700.000 copies). In the 1964 Nino took part at the famous "Festival di Napoli" with the song INUTILMENTE and he was classified in the Final evening, and in the 1965, again at the "Festival di Napoli" with the song UNO CA TE VO' BENE.
In the 80's he started performing as a pianist-singer in the piano-bars and he played in the most prestigious venues all over the world, from Turkey to Japan and Lebanon and Germany, United States and South America, always getting an incredible success and where he was always invited to come back.
At the end of the 80's Nino recorded an album, distributed by Ricordi, in hommage to the Festival di Napoli from the 1952 to 1960 with the major tunes of those editions; his close friend Roberto Murolo wanted to write personally the dedication which is printed on the cover of the cd, as a way to express his appreciation for the high quality of the work.
Nino recently released a CD for piano solo called "Io…e il Piano: just for people in love" which is a collection of all major tunes from all over the world, American, Neapolitan, French and Brasilian. On his website is also available the original versions of his most famous 60's tunes.
Still today in the clubs where Nino perform, his music create always a magic atmosphere and get the appreciation of the audience.